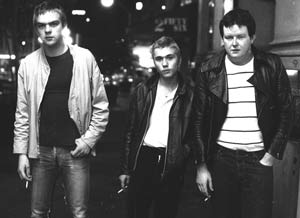 Above pic: Not the album cover.
Pic of the
Terrorways
taken by Murray Cammick and stolen from
Simon Grigg's website
.
Here's Ripper Records final output from the year of 1983. Six New Zealands bands from two islands. Personal favourites are the
Terrorways
celebration of short haired rock and roll.
Spelling Mistakes
ode to Reena's non-facial lips title alone ensured it was never going to get commercial radio play. The shock value has worn off for me but the country tinged song still has the same naughty schoolboy appeal years after first hearing it.
Rip into it!