I don't normally publish news but this is terrible news. Blackie from the Hard-ons was assaulted while working as a taxidriver and is currently in hospital.
From the band's site:
"None of it was his fault. The two assailants were arrested by police. Blackie has been in hospital since Thursday night with a skull fracture and 16 stitches, swelling on the brain. We will be there for a few days still, while the docs make sure all tests are done. Thankfully he has been moved from the critical room to where they keep stable patients. He does not remember all details but he is getting better every day. Not sure when he can play music again. We will know more in the coming days. He has already been told he cannot drive for 6 weeks due to his head trauma. Please send him a get-well message through facebook , he'll read it all when he gets out in a few days. I'm sure he'll get better soon. He is a pretty tough cookie. I've known him for many years and I know he wants to get back playing music again as soon as possible, but he will go with medical advice, it's gonna be best to give playing live for a while, so that he can fully recover and come back fitter than ever. Will keep everyone posted. By the way thanks for all those messages. I'll pass 'em on to Blackie and I'm sure he'll really appreciate them."

News story here
Much more up-to-date info is available from the
Hard-ons facebook page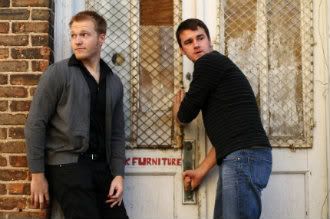 In other news, Chicago pop punkers The Projection have a free single and are giving away their album
While You Were Out
free to anyone in the military. You can grab their single,
Florida here
.
The small takeover on facebook