Shihad
– Beautiful Machine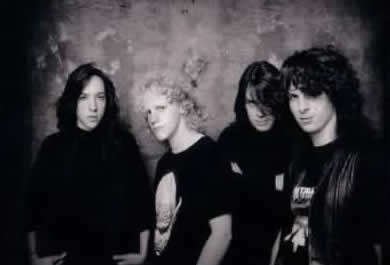 Rock documentaries are a dime a dozen these days but bands that last close to a quarter of a century certainly aren't and that length of time ensures that there are stories to be told.
Shihad
's finest moment was their second album Killjoy and soon after The General Electric the band became New Zealand's answer to Nickelback musically. Though from the band's strength has always been their live show.
The animation in the trailer may make you think that you're in for an Antipodean version of the
Metallica
documentary "Some Kind of Monster" and in some ways it does parallel that movie but there is no life coach for the band but similarly there is alcoholism and inter-personal relationship breakdowns as well as a similar part with the drummer's child sitting on his knee while surrounded by drums.
The film is more about relationships than about music and how time overseas affected them as a band and as people. There is a lot of John Toogood's partner who rightly priotizes that her child is the more important than her partner following his desire for band fame overseas and felt the biggest strain due to partner absense. Other band member's partners do get talked to although Phil Knight's wife really only gets a wave in.
Parents of all the band members are talked to about their sons. Drummer, Tom Larkin's parents talk about not knowing that the boys were doing pub gigs when
Shihad
is underage unsurprising but worth a smile. The parents and band members are all candid in all of their answers. The appearance of
Killing Joke
's Jaz Coleman is a surprise given the band's previous grievance's with him over finances.
The interview with Germany's Noise record label people is interesting.
Shihad
basing themselves in Melbourne due to the signing with Warners is covered, as is the tour and recording in the States and how the band blew it in front of a lot of record label representatives. The band changing their name to Pacifier gets a lot of coverage. It was telling when Americans looked at the Shihad name and a few said it was close to holy war but a couple of young woman guess much more correctly.
Shihad
in front of label people who wanted to manipulate the band down to picking their set list is covered is paralleled with Larkin telling Knight to puff his hair up to look like a big rock star.
There are a lot of fond memories and Phil Knight's animated first phone call between Ton Larkin, Jon Toogood and himself is a highlight. The band's manager Gerald Dwyer is shown in a number of clips and remembered very fondly by band members and others associated with him. Dwyer's drug habit, death and tangi are all talked about. Toogood talks about writing quieter songs because Dwyer wasn't around to point out that the band's grunty rock strength is what should be concentrated on. The missteps the band have made aren't overlooked.
I loved that the band's early days were covered because I was following the band back in their demo days so would have liked to heard from the former bass players and also from other band's that were around at the time. In fact, I may well be in the Mountain Rock audience footage. I also know people who were at the 91 AC/DC gig, which was bass player, Karl Kippenberger's second Shihad. The first being a show the night before in Palmerston North(I suspect the then thrash metal band played with a goth band).
Head Like A Hole
's experimentation with heroin in Berlin is only covered from the Shihad viewpoint. From a music point of view, the band's surge into the mainstream when "Home Again" started being played at rugby games total lack of mention disappoints. There are also a number of personal incidents that go unmentioned. This documentary also sadly fails at showing how the band changed from working jobs to becoming full-time musicians. During the movie there is a change in quality of band filming over time as VHS and VCR recorders become digital and professionals can be afforded by the band. This documentary is aimed more than just the band's fans since it is really more about a group of friends from New Zealand chasing their dream of success overseas and the problems that come with it rather than just about music.
The small takeover on facebook