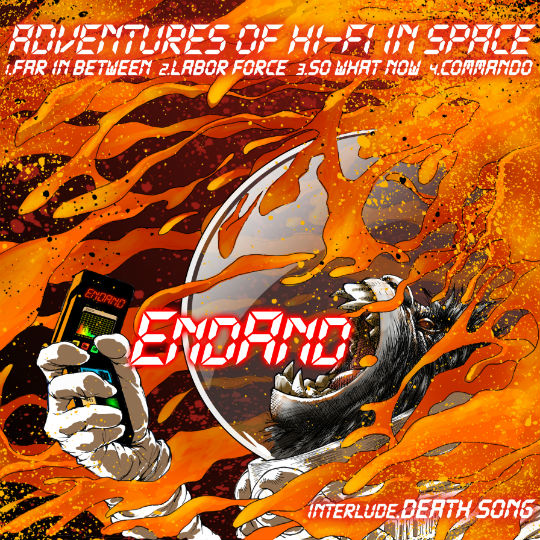 Endand
are a trio based in Brooklyn, New York who have released two separate EP's as an album. One hi-fi and the other lo-fi.
My initial thought was listening to the first song "Far In-Between" was that it was a clever power pop song and not noise or punk as the info I was sent has categorized the band. The initial launch og "Labor Force " is straight out of the 80's with its huge chorus and had me reminiscing about
The Comsat Angels
, a band who haven't entered my thought process in years although towards closing time, feedback enters the fray which places the song more into the 90's. The 92 second "So What Now" has
The Pixies
written all over it. Death Song answers what would happen if the
Kinks
had time travelled to the nineties listened to the likes of the
Pixies
and
Sonic Youth
way too much then wrote "All of the Day and The Night".
"Adventures of Hi-fi In Space" is the polished pristine sound of a band that was nothing but a dream until last year.
4/5
No prizes for guessing that "Adventures in Lo-fi in Space" is a much less polished affair. The EP consists of DIY recordings that sometimes sound like they were recorded in an empty swimming pool.
Proceedings kick off with "Dawi" which had me thinking of
Pavement
as there's a jangly pop band dying to get out underneath the raw and rough approach. Guitars jangle as a sparse approach is taken to the song "Legend" with its almost whispered vocals. Missing that jangly poppy sound that was once synonymous with many Flying Nun bands? Then just check out "Sweet" and consider whether it's closer to
The Chills
or
Sneaky Feelings
.
"Adventures of Fi in Space is a scintillating debut album.
Endand
are already more than just a promising band as the promise has been delivered. Keep both eyes and ears on this band.
4/5
Endand on bandcamp
Endand on facebook.


Small Takeover on facebook