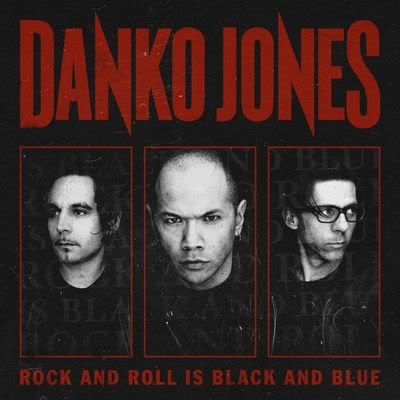 Danko Jones
"Rock and Roll is Black and Blue"
The legacy of Canadian trio
Danko Jones
endures. "Rock and Roll is Black and Blue" continues with their merging of Phil Lynott tinged vocals with a potpourri of 80's glam metal (that's what hair metal was called back in the day, youngsters) occassional AC/DC riffs and punk rock. The band are aware of the past rock history and have managed to create their own sound through the pastiche.
"Get Up" is definitely a nod to the ghosts of rock and roll past as it borrows from
The Knack
's best known song. "Legs" doesn't win originality points in the title stakes but luckily doesn't sound like mid-80's ZZ Top although the guitars are buzzing but there's not the same overproduced sound that was going on with the bearded ones at the time of their more commercial albums. "I Don't Care" has a sliding metal guitar groove without heading to groove metal waters. At this stage, "You Wear Me Down" sounds like filler to my ears but I picked out filler in the band's last album and came to love the whole damned affair. "Always Away" screams out single due to its rock radio-friendliness that could easily sit between Black era
Metallica
and
Foo Fighters
. "Conceited" rocks like hell due to the rhythm section sitting well above simmering.
It's clear that Danko and company have been listening to both the
Misfits
and
Danzig
in recent times as "Baby Come Home" features a Glenn Danzig style howl and "I Believed in God" has undeniable MISFITS. Due to the final song "In Your Arms" sounding like it could have come off "How The Gods Kill", I gave the band's name a second look just to check that it wasn't now
Danzig Jones
.
While "We Sweat Blood" remains my favourite outing from the band,
Danko Jones
have proved that they are hear to stay and are still capable of bringing it, I really hope they don't turn into mere clones of the man with a million evil internet memes.
3.5/5
http://www.dankojones.com/