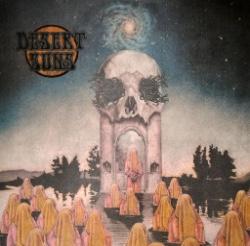 There aren't any prices for guessing which style of music San Diego band Desert Suns play. Their bandcamp page states, "In that space where psychedelia, blues-rock, doom and sludge coalesce, it's there you're likely to find Desert Suns." This is heavily 70's tinged desert rock,
The band provide knockout blows early in the album with the psychedelic hard rock of "Burning Temples" and the hard-out jamming groove of "Space Pussy" with its wailing guitar. There's a definite Sabbath influence in "Passing Through". The vocals sound close to Ozzy but Desert Suns have the talent to manage not to sound like yet another Sabbath clone. "Ten Feet Down" is a serious change of pace with a huge dose of Southern blues. The opening vocals on "Memories of Home" remind this listener of "The Real Thing" period Mike Patton although there's also Ozzy simultaneously shining through.
This is a great debut and it's easy to see why the two labels wanted to re-release this. I hope Desert Suns stick around for some time.
This album was originally released on a limited 300 run of vinyl but has been re-released in Nort America on vinyl and CD by Ripple Music and HeviSike music.
4/5
Desert Suns on facebook

Check out the whole album on Desert Suns bandcamp page.