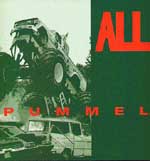 Back in the early nineties I intended to do a fanzine and wrote to Bill Stevenson, the drummer from this US pop-punk band,
The Descendents
and ex-
Black Flag
asking if he would do an interview). I didn't really expect a reply however Bill wrote back saying to write back with a list of questions and to get them details of a New Zealand promoter so they could tour New Zealand. A year or two late Brian Wafer brought
ALL
to New Zealand to tour their Breaking Things album and they played a few of the smaller towns. It was fairly shameful that only about twenty people turned up to the Stomach on a Monday night in Palmerston North.
After
ALL
's
Breaking Thing's
album which was released on Cruz records in 1993. ALL were signed to Interscope records due to the commercial breakthrough of pop-punk (
The Offspring
and
Green Day
had become fairly big due to the
Dookie
and
Smash
albums. I guess Interscope records had thought something like having a band with three
Descendents
(one of the originators of the pop-punk sound would become highly successful a decade later).
ALL
released the album
Pummel
in 1995. The album wasn't as sucessful commercially as Interscope records had hoped. So ALL were dropped from their roster and moved to the Epitaph records label which specialized in pop punk during the nineties and their next album
Mass Nerder
was more successful.
Pummel
is now out of print. The song opens with a song called
Self Righteous
which has a SexPistols type riff with melodic vocals and lyrics about how preachers of straight edge annoy
ALL
.
Million Bucks
is a rocking pop punk love song(which is what this band do best).
Miranda
is a cool song about a one night stand.
Uncle Critic
is ALL's reply to music critics. The song
Stalker
sounds like
ALL
had been listening to
Pantera
with its screamed vocals.
All the other songs are cool too except
On Foot
wouldn't have sounded out place on a glam metal album. A few of the songs are lyrically depressing. The song
hetero
comes across as homophobic which is at odds with the 'Don't call me homophobic' line
in
Uncle Critic
.
Pummel is being reissued sometime without the song
Hetero
and three extra songs. The new cover will feature Chris Shary artwork with ALL's mascot driving a monster truck and a music note car getting obliterated.
Download the original version of
Pummel here
. Then buy the re-released version when it comes out.
ALL/Descendents guitar player, Stephen Egerton has recently started his own webpage which features projects he is currently working on, produced and has worked on and produced. The 40 Engine material and some of the other stuff he has written with former ALL vocalist Scott Reynolds is great.
Click here for Stephen's website