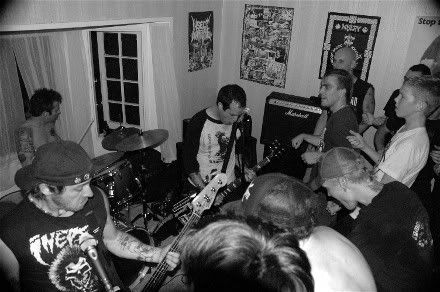 Auckland booking outfit Dog Run bookings brought US punk trio
Born/Dead
for three shows in New Zealand which completed the band's world tour. After checking out their songs on their myspace site I decided that I liked them enough to check them out their live show at Valve in Wellington.
I arrived while
Co-existir
were playing. The type of metal these girls and one guy play isn't really my thing. Still I enjoyed their final song which seemed punkier than the rest of their set. They've improved a lot since Punkfest last year.
If I remember rightly Palmerston North band,
Gaylords
played next and were good. The
Sucidal Tendencies, DRI, Municipal Waste
influences on this band's sound and look came through strongly. The dual vocal approach is great. I found myself singing along to their song
Might as well working
because it's really catchy.
Punchbowl
played next and this time they had a guy on bass. I watched them play one song and it reminded me of
L7
. As I was hungry I went and got something to eat and missed the rest of their set.
Up next were
Strangers
who still remind me of late 80s flying nun Auckland band
SPUD
. The difference is they're probably louder and have more of a metal leaning. These guys were angry, loud and high energy.
Finally
Born/Dead
came on. I've been told they sound like
Aus-Rotten
however I've never heard that band. I'd say they sound like early UK bands such as
Doom, Discharge
and
GBH
with a touch of 80s US punk like
Naked Raygun
. I really enjoyed their set despite not really being familiar with their music. I bought their LP
The Final Collapse
so there were will be a review of that album on this blog soon.
As my camera is being fixed I didn't take any photos at the show. All pics on this post were taken by
trip up
at a hamilton house show which finished
Born/Dead's
5 month world tour.