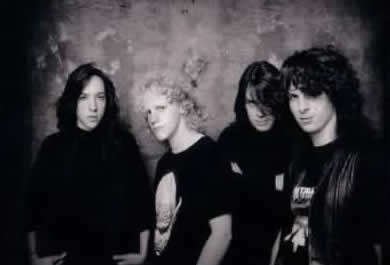 Here's more early
Shihad
. The first time I found out what this band looked like was when they won the
Grunt Records
New Zealand Heavy Metal competion which was held sometime in the late 80's. Anyway Bruce Rae from Grunt records in Christchurch was selling an overpriced coverless live tape from the event which featured
Shihad
and
Strikemaster
. I've long since lost that tape and haven't worked out how to rip tapes or vinyl anyway. Anyway I managed to get my grubby hands on an unofficial Shihad CD release entitled The Early demos.
Here is
disc 1
Empire Warehouse Rehearsal(Approx 91/92)
1. Churn
2. Anonymous
3. Push Away
4. Feet First
5. Fear of Falling Apart
Dead and Buried Demo (88 or 89?)
1) Dead and Buried
2)IT
3)Tengu
plus Down Dance(demo version)
It's amazing that a song like Push Away never made it onto an album. The other songs from the Empire Rehearsal are also very good.
Faith No More, Helmet
and to a lesser extent than earlier,
Metallica
influences shine through.