Hailing from Palmerston North, New Zealand band,
Lung
were around from 1990 -1995. In his book
Ready To Fly
, David Eggleton describes the band as an industrial band heavily influenced by former Palmerston band
The Skeptics
. In the early nineties
Rip It Up
magazine grouped the band with
Shihad
and
Bailterspace
as part of a local industrial movement. Lung were originally
The Clear
who came out of the ashes of Palmerston North's
Ode records
signing
Thin Red Line
and released an EP of New wave/pop.
The Clear
's line up changed completely and the band recorded Live Stomach in 1990 on a 4 track at Palmerston North's Stomach music centre which had recently been set up. On the Yellow Bike records catalogue
Live Stomach
was described as thrashy pop based punk rock songs from the precursor to
Lung
.
Tracklist
1. Temptation
2. The quiet sleeping
3. Trees in Autumn
4. Dinosaur
5. Backyard Boy
6. Full Moon
7. Why did we ever come to this place?
8. This darkness
9. Killing time
10. I like to Fish
If I remember rightly, why did we ever come to this place? had a video which received TV airplay on the revamped Radio With Pictures.
Get Live Stomach.
The band changed their name as they were sometimes confused with the Flying Nun band
The Clean
and a few people were disappointed learning that it was not the reformed Dunedin band touring. Lung's Cactii album was recorded at Writhe studios by Brent McLachlan from
Bailter Space
and
The Gordons
.
Screams from the gutter
describes Lung as one of the greatest bands you never heard. Their sound could easily fit in with the sound of Touch and Go Records or Amphetamine Reptile. The only band that comes to mind with a similar sound is Wreck(on C/Z Records. Their sound could be described as dark, a little noisy, moody, disturbed. Like a strange blend of
Chokebore
, old
Cows
, and
Flour
.
Full Moon again
is not on this file as it's the same song as
Full Moon
on the
Live Stomach
album. As I lived in Palmerston North for quite some time I saw Lung/The Clear a number of times. Cactii was one of the first CDs I bought. At one stage I lived around the corner from the imaginatively named Albert pub which was on Albert street which was a band venue for a number of years. Times changed and the Albert became a sports bar and the former venue turned into a karoake bar. Noise complaints were still received. I know this because I lived opposite the Albert for almost a year. Also I was doing a computer course at Manawatu Polytechnic in 1991 and one of my tutors was a fill-in bassist for Lung at the Massey University orientation toga party.
Get Cactii
Cactii tracklist
1 She's got a gun 3:24
2 Sarah 3:36
3 Sleep 3:20
4 Sub 2:24
5 Lurch 2:47
6 Hardwired 6:15
7 Numb 3:52
8 Eat the Poor 3:51
9 Ride 2:34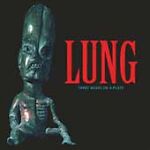 Lung
's 3 Heads on a Plate (1993) was mostly recorded in Germany but three songs were recorded at Palmerston North's Stomach studio. The Yellow Bike pressing had a different tracklisting to the US Restless pressing which included a couple of songs from the Cactii album. My tracklisting is possibly different again.
1. Car Crash
2. Compellor
3. Elvis Arsehole
4. Exit
5. Johnny Favourite
6. Melonoma
7. Paralysis
8. Resuscitate
9. Slaughterhouse
10. Splinter
11. Swing
Have 3 Heads On A Plate