Like a lot of the recent reviews this was written by me for the now defunct music webzine, Peacedogman, although it was part of a far greater list as all the writers had to choose five trios to write about. In the original list the editor chose
Motorhead
as the number one band. Here are my personal choices and rankings.
5) The Hard-ons
From the word go, Australian band
The Hard-ons
have been a throbbing pulse in Australia's punk movement. From the band moniker and their 1986 album entitled "Smell My Finger", it was apparent that this was a band that would garner attention and get up the noses of various authority figures. Major record company RCA released their debut but was less than impressed with the album's name and dropped them and the band stayed with smaller independent record labels. The band veer towards the bubblegum pop punk of
The Ramones
but with added slabs of hard rock and metal. Up until leaving in 2000, the trio's drummer, Keish de Silva also undertook the challenging feat of lead vocals. The distorted yet melodic guitar of Blackie is another cornerstone of the band's sound. With 12 albums under their belts the band have an extensive discography. 1988's "Dickcheese" is a fine example of the band's mashing different sounds together. "Figaro" and "Yuppies Suck" are frantic thrashy punk. "Something About You" is super-tight pop punk. Two of the latest
Hard-ons
albums differ in style with "Most People Are A Waste of Time" consisting of
Lemonheads
style pop and "Most People Are Nicer than Us" is likely to confuse fans of the band's pop approach with its heavier and hardcore oriented listeners. Years since their formation
The Hard-Ons
are still a band making and releasing music strictly on their own terms. The latest album, "Alfalafa Males Once Summer is Done Comform or Die" once again mixes punk rock with pop and metal.
4)
Husker Du
The Minneapolis trio of Grant Hart, Bob Mould and Greg Norton are not easily pegged down into a single genre. Unless of course, you call the music of
Husker Du
pop/punk/ melodic/alternative rock dabbed in hardcore. The strong songwriting and lead singing was shared between guitar player Bob Mould and drummer, Grant Hart. Mould's voice warbles like a man baring his vulnerable soul for all to witness. Grant Hart's rock voice shoots straight for the hip. The band was a tight unit and released a string of great albums with tuneful pop hooks and superb musicianship that were irregular for bands rooted in the punk and hardcore movement. Greg Norton's tightly executed bass lines flow through all the band's song and further power the three piece's distorted vibrancy. The definitive and intense "New Day Rising" should already be sitting comfortably in your music collection. The fluid trio as always naturally combine pop and noisy punk. "Flip Your Wig" contains the awesomely contagious "Makes No Sense At All" with its commanding melody riding along with vigorous instrumentation. This song was equalled on "Candy Apple Grey" with "Don't Want to Know If You Are Lonely". Few bands have released as many great albums in a row as
Husker Du
.
3)
The Jam
Due to their timing of arrival, it's all too easy to group
The Jam
in with the punk movement. Separating the band was their rejection of safety pins, studs and dyed hair, in favor of tailored suits. Both fashion and music-wise
The Jam
was at the forefront of a mod revival. A number of songs on The Jam's first album "In The City" sound like sped up varations of tunes from the likes of
The Kinks
,
Yardbirds
or
Small Faces
as the trio incorporated mainstream sixties rock in their sound. The band's fifth album "Sound Affects" is a pinnacle album that can hardly be defined as punk although it first punches with the fast rocker "Pretty Green". Throughout the album Bruce Foxton's melodic bass is at the forefront of the band's soundscape. The mellow "Monday" has a very sixties sound and it's incredibly clear throughout the entire album that guitarist/singer Paul Weller had been investing time listening to "Revolver". "That's Entertainment" is an amazingly brilliant song that is mostly Weller's vocals and an acoustic guitar. It's very English in lyrical sentiment and not entirely obvious whether the intent is celebratory or cynical. "Set the House" ablaze rushes and rumbles along with Rick Buckler's steady drumming. "Dreamtime" has heavy pop hooks that place a listener into a hypnotic trance.
The Jam
was never a band afraid to experiment with horns and trumpets blow in the chirpy upbeat "Boy About Time". The reason that this album is now out of print in the US is a mystery.
2)
fIREHOSE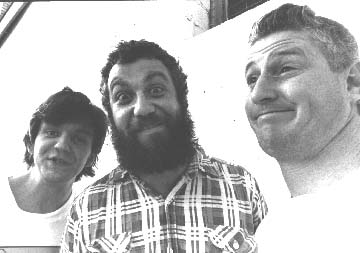 After the untimely death of the
Minutemen
's D.Boon, it would have been easy for Mike Watt and George Hurley to pull the plug on their musical careers. However a phone call from a fan, who later became known as EdfROMOHIO spurred the other musicians on and resulted on the formation of
fIREHOSE
. The band's debut "Ragin', Full On" is aptly titled whilst belying the band's name, the trio scorches on this album. Although Mike Watt's thumping bass is the backbone of the band; the other two members are definitely not minor players. The mellow vocals and guitar of EdfROMOHIO and the steady timekeeping of drummer, George Hurley interfused with jazz and folk influenced post-punk sounds. Each musician has a unique idividual sound, which interlocks to complete the jigsaw puzzle. "Brave Captain" instantly drags the listener in with its melody and driving bass. "Chemical Wire" blasts your face off with its funkish playing. Locked In" and "The Candle and The Flame" are the jazz influenced folk rock that was regularly charted territory for
fIREHOSE
. "Perfect Pairs" showcases the genius of the band's rhythm section as it veers several times from quiet folk to fast-paced rock. The ninety seconds of "Relatin' Dudes to Jazz" is blissed out punk energy, catchiness and bounciness with its rapid fretwork. Success through musical chemistry cannot be denied on "Ragin' Full On". The album is a treasure to be cherished by all discoverers.
1)
Nomeansno
This band may look like retirement home lodgers but
Nomeansno
still has a lot more energy in both their recorded output and onstage. Rob Wright's bass playing explodes through the speakers and his brother John is often seen carrying a hammer before the band play as he nails his kit to the stage floor to stop separate drums from hitting the ground and gouging body parts as he aggressively pummels the set. Describing the band simply as a punk band would be a huge mistake easily made due to the bulk of their releases pressed on Jello Biafra's Alternative Tentacles label. A heavy jazz-fusion element is placed in a concrete mixer along with jazz, fusion, blues, hardcore, rock, new wave and punk.
Nomeansno
re-worked
Miles Davis
' "Bitches Brew and
The Ramones
' "Beat on the Brat" in their unique way on their often over-looked album "One". 1989's "Wrong" is still the seminal Nomeansno album that no self-respecting rock fan's home should be without. The band's essence of jerky punk played with a warped sense of humor is encapsulated in tracks like "The Tower" and "It's Catching Up", While you're out buying it, delve into any of their other albums as they're all solid. Then say hello one of your favorite bands. Be strong. Be wrong.
Who would you choose if you were pick to five trios and how would you rank them?
.